Nick Grondin Releases SongTeller featuring Award-Winning Big Band Works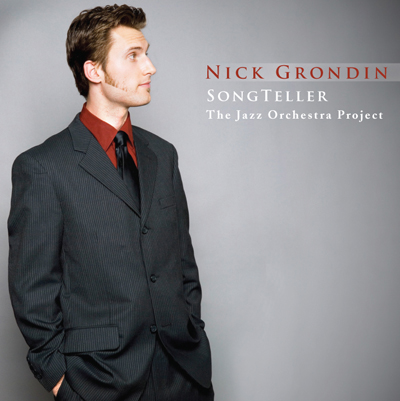 SongTeller – The Jazz Orchestra Project now available online!
Listen to samples, download and order physical copies via CDBaby!
Listen and download via iTunes!
PHOTOS from CD RELEASE Concert @ REGATTABAR on August 6th, 2009!
June 1, 2009—Boston, MA: Jazz composer and guitarist Nick Grondin is releasing his first CD of award-winning, contemporary jazz compositions, titled SongTeller – The Jazz Orchestra Project.
The album presents four new works for jazz orchestra, along with two pieces for ten-piece jazz ensemble that also feature Grondin on guitar. Four of the pieces have won national awards from DOWNBEAT Magazine and The ASCAP/Gibson Guitar Young Jazz Composer Awards.
Bright colors and sonic textures abound as Grondin animates the wide-ranging timbral palette of the 18-piece jazz orchestra, with added harp, voice and percussion also illuminating the sonic journey.
"As in our favorite stories and films, musical works are moments of art experienced through time. A SongTeller is how I see my role as a composer, and on this recording, my desire was to share these musical stories told in melody." – Nick Grondin
The two compositions for ten-piece jazz ensemble feature the rising Portuguese vocalist Sara Serpa, now a member of saxophonist Greg Osby's group.
"I love the tone painting aspects of it. Beautiful harmonies and the way the voice is integrated as a wordless instrument is great." – Jon Cowherd, pianist and composer of the Brian Blade Fellowship
Grondin has directed live performances of the pieces across the country and in Paris, France—which were conceived while Grondin was completing his Masters Degree in Jazz Composition from the New England Conservatory of Music in Boston.
Stylistically, the pieces run a broad spectrum from the flowing straight-eights grooves of Les Touches de piano and Strawberry Fields Forever, to the bluesy medium and up-tempo swing of Mingus and The Shifter– all the while recounting the unique the tale of each piece.
The tracks were recorded at Mix One Studios in Boston in May 2008 by a cast of all-star Boston players. SongTeller will be available in the coming weeks via NickGrondin.com and on iTunes just weeks later.
Audio Previews
Les Touches de piano (2:12 clip)
Les Touches de piano—inspired by a painting of the same name by Czech painter Frantisek Kupka—a colorful melodic tale narrated by piano (Alex Brown) and soprano sax (Aaron Kruziki) duet over a flowing straight-eighths groove. The piece was the winner of the 2007 Downbeat Magazine Student Music Award for Best Collegiate Extended Composition.
Strawberry Fields Forever (2:16 clip)
Strawberry Fields Forever retells the story of the Beatles' haunting melody, leading us on a tour through mysterious modal sonorities and energetic Flamenco-esque grooves. Alto saxophonist Alex LoRe emerges as a lead character, accompanied on the journey by harpist Virginia Rogers. The piece won a 2008 Downbeat Magazine Student Music Award for Jazz Arrangement.
Mingus (1:58 clip)
Mingus, a hard-swinging piece inspired by the works of Charles Mingus and Thad Jones, and combined with Grondin's taste for bluesy melodies and bold build-ups. The track features solos from four fine Boston players: tenor saxophonist Jon Bean, trumpeter Vivek Patel, bassist Daniel Durham and again Alex LoRe on alto saxophone. The piece won a 2008 ASCAP Young Jazz Composer Award.
The Shifter (1:44 clip)
The Shifter, a piece which moves between a chorale-like setting of simple melody to an up-tempo swing dialogue of sections, exploding into tenor sax and trumpet solos by Kenny Pexton and again Vivek Patel. The piece recently won a 2009 ASCAP Young Jazz Composer Award.
Open Waters (10:03 clip)
Open Waters, for the ten-piece jazz ensemble, was inspired by moments overlooking the waves of the Caribbean. It captures the journey of setting sail from the bay to being launched into the open seas. The piece features solos from Will Caviness on flugelhorn followed by Nick Grondin himself on guitar.
The Shorter Night (8:06 clip)
The Shorter Night —also performed by the ten-piece ensemble—is dedicated to the great jazz saxophonist and composer, Wayne Shorter. Drawing inspiration from Shorter's works, Grondin's melodies fly over alternating 3/4 swing and Latin 6/8 grooves.
To learn more about Nick Grondin's work for big band, visit www.nickgrondin.com/big-band
Scores and parts to the above pieces are available via www.shopthecomposers.com.