Welcome to the official site of guitarist and composer Nick Grondin. Nick Grondin Group Album: "A View of Earth" upcoming release! Thanks to a Berklee College of Music Faculty recording grant, Nick brought the group into the studio to record a full album last fall, co-produced by pianist Jon Cowherd (Brian Blade, Cassandra Wilson). The CD is currently being mastered, and the videos edited! Album Backstory! Thanks for your support. Stay tuned for concert updates and line ups!
Enjoy our videos from the Regattabar
:
Strawberry Fields Forever - Nick Grondin Group
, Live at Regattabar
Falling
- based on the JP porch collapse experience.
Secret Song
- a simple but beautiful piece which features our vocalist Aubrey Johnson!
Click to watch the Nick Grondin Group featured on Chronicle HD (on Channel 5 Boston ABC)
Nick Grondin Proudly Endorses D'Addario Strings.

Featured CD: SongTeller - The Jazz Orchestra Project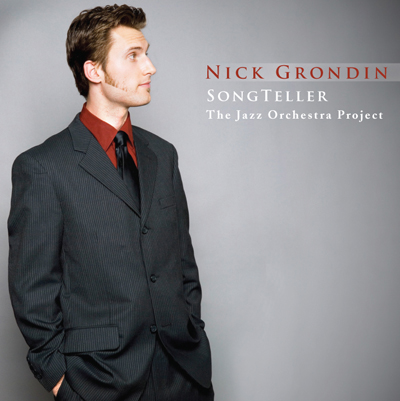 Consider a CD of award-winning jazz stories told in melody.
SongTeller
features captivating performances by a 20-piece jazz orchestra. "The award-winning guitarist, composer, and arranger's vibrant, cinematic new album, features not only a kaleidoscopic, big-band arrangement of the Beatles' Strawberry Fields Forever, but also a swaggering, earthy tribute to Charles Mingus, among other tunes. – Boston Globe "Grondin has a real flair for large-ensemble color and momentum in the tradition of Gil Evans and Thad Jones" – Boston Phoenix
Listen to samples, download and send copies anywhere in the world via CDBaby
Listen and download instantly via iTunes
More NEW videos! :
www.youtube.com/NickGrondinMusic